About Us
Modelsbooking.com is the online booking platform of the international modeling agency www.TheModel.company based in Vienna - Austria and is connecting models and fashion industry-related freelancers to clients from anywhere they are in the world. From helping new models take their first leap to adding extra value to brands through quality talent sourcing, our platform is an all-in-one source for models, talents, and clients.

We believe models, talents, and clients should have the freedom to work with whomever they choose and have control more of their own careers. Being in an industry with an insatiable need for talents, we're striving to bridge the gap and help brands find the right people for every project. Modelsbooking.com is here to make hiring models and talents as easy as booking a ride to the mall. As we connect models with clients, our online model booking platform strives to also make the entire process transparent and hassle-free for both parties.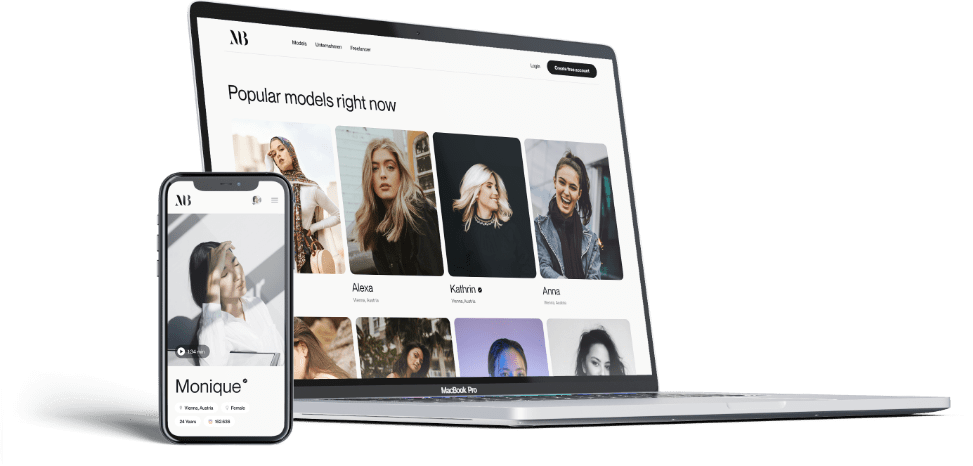 Our Mission

At Modelsbooking.com, we aim to provide an easy-to-use platform that simplifies model booking and talent sourcing for brands across the fashion and film industries. We want to connect models, photographers, stylists, make-up artists, and other professionals with the right clients. Our online model booking website is a borderless platform where anyone from anywhere can be discovered and hired.

Looking for models and talents?

We have dozens of responsive and professional models and talents available for hire. Just create an account with us and post a job to get the talents you need for your project. We have female models, male models, plus-sized models, teen models, child models, and more waiting to hear from you.

Looking to get hired?

Whether you're a model, photographer, stylist, or make-up artist, here, you'll find dozen of jobs from our verified clients. Join us now and start getting hired.